~Want a free fueling guide? What to eat before, during, and after workouts!~
Free guide when you subscribe to our newsletter. BONUS! A coupon code for a discount on online courses!
Power Grain Bowls
You're a busy person. You work all day long, and probably did errands, household chores, helped kids, and took care of your pet. What do you do when you walk in the door after a long day and are STARVING but don't have a dinner plan? You need meal prep options.
Dinner is solved
Easy! Power grain bowls! These bowls are simple to prep ahead of time. When you are done with a hard training session or a long day at work, just throw the ingredients in a bowl and heat up in the microwave. It makes an easy recovery meal packed with protein, vitamins, and minerals. Recovery power bowls are simply grain bowls with protein and vegetables added in. It makes an easy, complete, and nourishing meal. It also works great for taking to work for lunch break.
Step 1: Pick your base
Step 2: Add your protein
Step 3: Top with veggies
Step 4: Select a flavor
Pro tip: Think of what variety of spices, flavorings, sauces, or ethnic flavors you'd like before building your bowl. This will guide your choices. For example, a Mexican bowl might have quinoa as the base, black or refried beans with cheese as the protein, salsa, tomatoes, olives, and avocado as the veggies, and sour cream and cilantro for added flavor. An Asian bowl might have rice as the base, teriyaki chicken as the protein, onion and bok choy for the veggies, and some ginger and soy sauce for added flavor.
Easy grain tips:
Batch-cook larger quantities ahead of time, such as quinoa, rice, or pasta. Keep in the fridge for up to 7 days. Portion out only what you need and microwave individual portions each day. You can also buy pre-cooked shelf-stable or frozen grains, such as rice and quinoa, and microwave individual portions as needed. This is easy with a little bit of forethought. Pick a weekend to batch cook some grains, or use a crockpot or pressure cooker (Instant Pot) to let the grains cook while you are busy living your life.
Easy protein tips:
You can buy fully cooked canned lentils, black beans, refried beans, kidney beans, and other types of beans for easy prep. Purchase canned or pouch tuna and salmon. Use canned chicken or rotisserie chicken for an easy no-bake protein option. Scrambled, poached, or fried eggs only take a few minutes to prepare and can be cooked in no time!
Easy veggie tips:
Frozen vegetables are a good option because they are easy to store and prepare, and last longer than fresh vegetables. If using fresh vegetables but you have limited time to wash and chop them, many grocery stores sell pre-chopped and pre-washed peppers, carrots, lettuce, spinach, and more. You can also use canned vegetables, or stop by the market on the way home and pick up a few veggies for your evening meal.
Tasty combos:
Southwest bowl: Quinoa, grilled chicken, black beans, avocado, salsa, sour cream, shredded cheddar, cilantro, and a squeeze of lime juice
Curry bowl: White rice, tofu cubes, sweet potato, carrots, onion, and yellow curry
Open-faced sandwich: Whole grain bread, slice of ham, shaved Parmesan cheese, fried egg with a side of asparagus
Pasta bowl: Whole grain pasta, ground beef, marinara sauce, Parmesan cheese, and zucchini
Oatmeal bowl: Steel cut oats, peanut butter, sliced strawberries, chia seeds.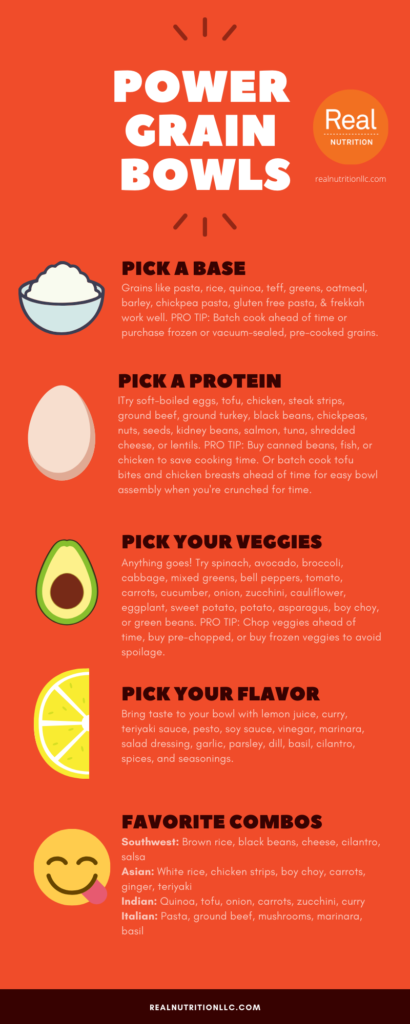 Where can I learn more?
Don't miss out! Get our free fueling guide!
Click to see our full line of amazing online courses!
And be sure to follow us on Instagram!