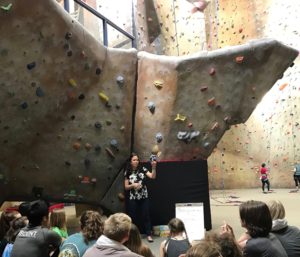 I believe that a workshop should be fun, interactive, and meaningful. You won't find me droning on with endless PowerPoint slides full of boring bullet points. And most of my workshops involve taste-testing, because everyone loves food! Contact me at dietitian@realnutritionrdn.com or 503-389-8833 to chat about how I can help your team or organization.
Podcasts
The Nugget Climbing Podcast: Eating disorders and climbing
Listen to me being interviewed for the Action30 podcast.
Listen to me being interviewed for the TrainingBeta podcast for rock climbers.
Listen to me being interviewed on PHIT for a Queen about climbers and eating disorders.
See my interview with Chris Bagg Coaching and The Endurance School on YouTube about triathlon and nutrition
Listent to my podcast with Drew Zagorski on the "You Don't Say" Podcast about intuitive eating.
Listen to me being interviewed by Mina Leslie-Wujastyk on the Curious Climber podcast.
Un-sprained: A climbing injury podcast 
Workshops are a great way to reach a large audience. I've hosted engaging, fun, and informative workshops for gyms, athletes, and sport organizations. Keep your athletes healthy and safe by arming them with expert fueling information to stay strong, go hard, and prevent eating disorders.
Consultations for teams/organizations: Keep your organization or gym safe from liability by utilizing a sports dietitian to run workshops, do staff/coaching training, and/or help set up safety protocols for what to do to prevent and address eating disorders.
Here are some of my recent clients:
Lake Oswego Composite Mountain Biking Team: Nutrition for training and racing
Seattle Vertical World: Nutrition for youth climbers; What parents and coaches need to know about disordered eating and REDs in climbers
Nanostrings Technology: Nutrition Hacks for the Busy Professional
Seattle Bouldering Project
Multnomah Athletic Club Youth Climbing Team
Lake Oswego Composite Mountain Biking Team (sponsored client)
National Charity League: Intro to Intuitive Eating
International Sport and Exercise Nutrition Conference: New to the Games: Olympic Climbing
USA Climbing: RED-S and Eating disorders for coaches
Ontario Climbing Federation: Fueling for comp climbing, female-specific fueling, and eating disorders
USA Climbing: What every climber needs to know about fueling and eating disorders
She Sends Collective: Eating disorders and RED-S in climbers
Action Sport and Spine Physical Therapy
Stafford Hills Club: Intro to intuitive eating
The International Olympic Committee: Recorded lecture on rock climbing nutrition for the Olympic format
McCallum Place Victory Program: Eating Disorders in Sport Conference (topic: Rock climbing and disordered eating: what you need to know for the newest Olympic sport).
Evolve PT and Sherwood YMCA: Nutrition for injury prevention and recovery
Girls camp for the Church of Jesus Christ of Latter-day Saints
All About Volleyball club team
Therapydia Beaverton
Hockins High School volleyball team
Schneider Electric
Northwest Personal Training
Athleta
Stafford Hills Club
Church of Jesus Christ of Latter-day Saints Regional Single Adults Conference
ClubSport rock climbing teams
Veris Industries
Protalus
Pacific General Electric (PGE)
Client testimonials:
"Marisa's virtual presentation for our company Wellness Month was highly professional, informative, and engaging. We appreciated the way she tailored the presentation to our company audience, and she demonstrated her deep knowledge of nutrition in addressing audience questions in real-time. She was a pleasure to work with and I would not hesitate to ask her to return for future events!" Erin Kuusela
"This last fall our middle/high school NICA mountain bike team partnered up with Real Nutrition to have several workshops for our athletes through the practice season and into our competitive season. It was a game changer for our athletes! They received nutrition and hydration information in a workshop format that the athletes received in a more positive and useful way than having coaches casually discuss nutrition at our workouts. As the head coach for LOC MTB I appreciated the way Marisa could conduct the workshops to be understanding & helpful for our age-range of athletes. It was fun and educational, and our coaches came away with a plan to keep nutrition in the forefront. This focus on nutrition resulted in our best year yet in performance improvements for the entire team. Thanks Marisa and Real Nutrition!"
Doug Cousineau ~ LOC Mountain Bike Team
"Before I took Real Nutrition's course on Intuitive Eating, I really did think it meant "eat whatever you want," and I was confused. It turns out, though, that Intuitive Eating is about being mindful, and tuning in to what is happening in your body, and then letting that drive your choices and decisions around food. It's an approach that we use when coaching athletes in sport, so it was so refreshing to see a similar approach used with eating. Just as we do when coaching an endurance athlete about racing, Real Nutrition's course taught me to abandon unhelpful and overly strict rules around food, allowing me to relax around food and be myself. This is only one of the insights in Marisa's excellent course, but it was the most profound one for me. I would recommend it heartily to anyone." Chris Bagg
"Marisa Michael put together a fantastic workshop. She came with slides, handouts, and even food to taste. We wanted a fun, interactive experience and this was it. The members of the group were quickly brought together in a discussion around what is a healthy lifestyle, how does fitness and nutrition fit into  our lives, and how to enjoy mindful eating.
We got to try different foods and…learn about making healthy, quick, and tasty meals to improve our health. The group had some specific requests for the workshop and Marisa came prepared to help everyone learn and connect with one another as well. She was available for questions afterwards and inspired complete cooperation from this diverse group of adults. We hope to hear from her again."
~Dana Edvalson
"I found Marisa Michael's nutrition workshop for dancers absolutely wonderful. She had the dancers write down a nutrition question beforehand and for her to review before the class. She was very engaged with the students and was extremely well prepared and thorough. There was involvement with the dancers from the get go so they felt it was for and about them. Ms. Michael talked about the topic of eating disorders with grace and authenticity. A difficult subject to bring up in the dance world but she handled it with great skill.
I would recommend Marisa to all athletes and dancers as a go to person that really understands the nutritional needs of such active young people."
~Nancy Davis, Artistic Director, The Portland Ballet
"We thoroughly enjoyed having Marisa come to our physical therapy clinic and educate our staff, patients, and community about the (often misunderstood/underrated) importance of nutrition as it relates to injury prevention and healing. We all learned a lot in a short seminar and walked away with things we could implement in our own diets right away, as well as excellent talking points for our physical therapy patients as they are going through their own healing processes. It was an engaging and informative hour and I would consider doing it yearly if she's willing! Thanks, Marisa!"
~ Kelley Lindstrom, Therapydia Beaverton
"I loved the interactions and reminders of healthy foods."
"Very easy to follow and helpful."
"Very knowledgable and engaging."
"Good presenter and good info."
"I appreciate the real advice for our real lives."
Contact me today to schedule a workshop!
Team workshops/Health fairs/Corporate wellness (Virtual or in-person)
Tailored topics for your organization. Always useful, never boring!
Workshop topics include, but not limited to:
Eat to energize your workday: Fun and interactive tips and tricks to help employees feel fueled for their workday.
Fueling for your sport: Basics on pre- and post-workout nutrition, hydration before, during, and after workouts. A perfect workshop for your local running or tri club, soccer teams, middle and high school sports teams, and any group of active people. Customized for your sport.
Mindful eating and taste testing: Fun and interactive workshop to explore mindful eating and how it relates to health and a good relationship with food. Includes taste testing and a power of food quiz. An engaging way to learn more about how food and taste can impact health and wellness.
Relative energy deficiency in sport and eating disorders: Training for coaches or athletes.
Custom topic: Contact me to request a topic you don't see here! I can tailor nutrition advice to your group and custom-make a workshop just for your needs.
dietitian@realnutritionrdn.com
SaveSave
SaveSave
SaveSave
SaveSave
SaveSave