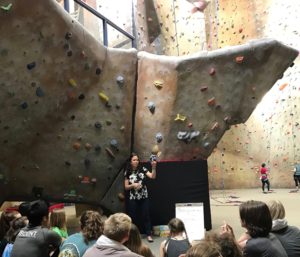 I believe that a workshop should be fun, interactive, and meaningful. You won't find me droning on with endless PowerPoint slides full of boring bullet points. And most of my workshops involve taste-testing, because everyone loves food!
Team workshops/Health fairs/Corporate wellness: Tailored topics for your organization. Always useful, never boring!
Body composition scans also available for your whole team or group! Perfect for fitness centers, sports teams, race expos, health fairs, and corporate wellness programs.
Workshop topics include, but not limited to:
Eat to energize your workday: Fun and interactive tips and tricks to help employees feel fueled for their workday.
General wellness and nutrition: An overview of basic nutrition and living a healthy lifestyle. Perfect for large groups, corporate wellness workshops, and anyone seeking nutrition information for their club, class, or group.
Sports nutrition: Basics on pre- and post-workout nutrition, hydration before, during, and after workouts. A perfect workshop for your local running or tri club, soccer teams, middle and high school sports teams, and any group of active people. Customized for your sport.
On-the-go nutrition: Tailored specifically for those busy people on-the-go who don't want to fall victim to the drive-thru. Designed for business travelers, busy moms, and anyone that doesn't have time to cook. Learn quick techniques to build a meal.
Mindful eating and taste testing: Fun and interactive workshop to explore mindful eating and how it relates to health and a good relationship with food. Includes taste testing and a power of food quiz. An engaging way to learn more about how food and taste can impact health and wellness.
How to eat healthy at college and avoid the freshman 15: Tips and tricks for cooking in your dorm room, selecting food at the dining hall, vending machine strategies, shopping lists when all you have is a mini-fridge and microwave, and how to fuel yourself for studies throughout a long day on campus.
Custom topic: Contact me to request a topic you don't see here! I can tailor nutrition advice to your group and custom-make a workshop just for your needs.
Here are some of my recent clients:
Schneider Electric
Northwest Personal Training
Athleta
Stafford Hills Club
Church of Jesus Christ of Latter-day Saints Regional Single Adults Conference
ClubSport Tigard rock climbing teams
Veris Industries
Protalus
Pacific General Electric (PGE)
Client testimonials:
"Marisa Michael put together a fantastic workshop. She came with slides, handouts, and even food to taste. We wanted a fun, interactive experience and this was it. The members of the group were quickly brought together in a discussion around what is a healthy lifestyle, how does fitness and nutrition fit into  our lives, and how to enjoy mindful eating.
We got to try different foods and…learn about making healthy, quick, and tasty meals to improve our health. The group had some specific requests for the workshop and Marisa came prepared to help everyone learn and connect with one another as well. She was available for questions afterwards and inspired complete cooperation from this diverse group of adults. We hope to hear from her again." ~D.E.
"I loved the interactions and reminders of healthy foods." ~ Kelly G.
"Very easy to follow and helpful."
"Very knowledgable and engaging."
"Good presenter and good info."
"I appreciate the real advice for our real lives." ~Allison
Contact me today to schedule a workshop!
dietitian@realnutritionrdn.com
925-914-9130
SaveSave
SaveSave
SaveSave
SaveSave
SaveSave