How can nutrition help with the coronavirus?
People are getting nervous. Misinformation is rampant. What can you do to protect yourself from the coronavirus?
Many health organizations have issued statements about how to protect yourself, such as wash hands frequently, do not touch your face, and stay away from large crowds.
But is there something you can change in your diet to help?
The answer is…not really, but sort of!
You cannot prevent or cure a virus simply by eating more fruits and vegetables or taking a supplement.
However there are some nutrition principles that help with overall immune health.
Nutrition for your immune system
Eat enough calories. Busy athletes need to fuel enough to support immunity.
Eat enough carbohydrate, especially for endurance athletes. Not enough carbs can also compromise your immune system.
Vitamin A, vitamin D, vitamin C, vitamin B6, zinc, selenium, iron, and copper are all important to immunity.
Supplements aren't necessary unless you are deficient. Eating a wide variety of fruits, vegetables, whole grains, legumes, nuts, healthful lean proteins, and fish are the best approach to a healthy immune system.
Some probiotic and prebiotics may help support a healthy immune system. Ask your doctor if a probiotic is right for you. Prebiotics are found in yogurt, kefir, bananas, oats, onion, asparagus, and apples.
Be cautious of products claiming they will protect you from or cure coronavirus, such as essential oils, supplements, colloidal silver, shakes, and powders. There are no supplements that will treat or cure viruses.
Foods to stock and how to prepare meals in case of a quarantine
If you're stuck in your house because of coronavirus, knowing what to eat and how to prepare it can be daunting, especially if you want to keep variety in your diet. Here are some easy ways to make a delicious meal when you can't access a grocery store.
Note: These suggestions assume you don't have any dietary restrictions.
Be sure to have non-perishable staples on hand at all times. Flour, quinoa, rice, cooking oil, powdered milk, powdered eggs, pasta, peanut butter, canned beans, dried beans, and oatmeal all provide nourishment and can be prepared a number of ways. And chocolate. Always chocolate. Because, well, life.
Have jarred sauces on hand–marinara, soy sauce, curry, masala, salsa, etc. give some flavor to your meals.
Buy frozen and canned fruits and vegetables. These are easy to use and don't spoil.
Have protein options on hand: frozen or canned meats, tofu, eggs or egg powder, milk or milk powder, dried or canned beans.
Other items that may need refrigeration but last as long as the 14-day coronavirus quarantine include eggs, cheese, condiments, jerky, potatoes, apples, onions, carrots, and deli meats.
What meals can you make with food storage?
Enter power grain bowls.
These bowls are simple to prep ahead of time. When you are ready to eat, simply assemble the ingredients and heat up in the microwave.
Step 1: Pick your base
Step 2: Add your protein
Step 3: Top with veggies
Step 4: Select a flavor
Some tips: Think of what variety of spices, flavorings, sauces, or ethnic flavors you'd like before building your bowl. This will guide your choices. For example, a Mexican bowl might have quinoa as the base, black or refried beans with cheese as the protein, salsa, olives. An Asian bowl might have rice as the base, teriyaki chicken as the protein, frozen broccoli for the veggies, and some ginger and soy sauce for added flavor.
Easy grain tips:
Batch-cook larger quantities ahead of time, such as quinoa, rice, or pasta. Keep in the fridge for up to 7 days. Portion out only what you need and microwave individual portions each day. Alternatively, buy pre-cooked shelf-stable or frozen grains, such as rice and quinoa, and microwave individual portions as needed.
Easy protein tips:
You can buy fully cooked canned lentils, black beans, refried beans, kidney beans, and other types of beans for easy prep. Purchase canned or pouch tuna and salmon. Use canned chicken for an easy no-bake protein option. Scrambled, poached, or fried eggs only take a few minutes to prepare and are an affordable source of quality protein.
Easy veggies tips:
Frozen and canned vegetables are a good option because they are easy to store and prepare, and last longer than fresh vegetables.Tasty combos:
Southwest bowl: Quinoa, grilled chicken, black beans, salsa, shredded cheddar.
Curry bowl: White rice, tofu cubes, sweet potato, carrots, onion, and yellow curry
Open-faced sandwich: Whole grain bread, slice of ham, shaved Parmesan cheese, fried egg. Pair with veggies or a fruit smoothie.
Pasta bowl: Whole grain pasta, ground beef, marinara sauce, Parmesan cheese. Pair with veggies.
You've got this! Stay safe everyone!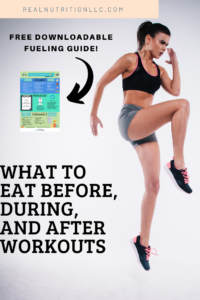 Don't miss out! Subscribe to get our free fueling guide (what to eat before, during, and after workouts!), discount code for online courses, and our monthly newsletters! You'll get useful nutrition tips and more!

Click to see our full line of amazing online courses!

And be sure to follow us on Instagram!