Have you had a bike fit lately (or ever)? I had a bike fit when I first bought my bike, but since then I have dis-assembled and re-assembled it, and it's never quite been the same! After having pain from the saddle breaking down, lower back pain, and numbness in my toes, I decided it was finally time to get a proper bike fit.
It's really important to get a good fit in order to:
Maximize training gains
Prevent injury
Have proper form for efficient pedal stroke
Proper muscle recruitment
Avoid undue muscle fatigue, especially if you have to run after a long ride like in duathlon or triathlon
Josh at Output Speed Lab did my bike fitting. He was super thorough and knowledgable.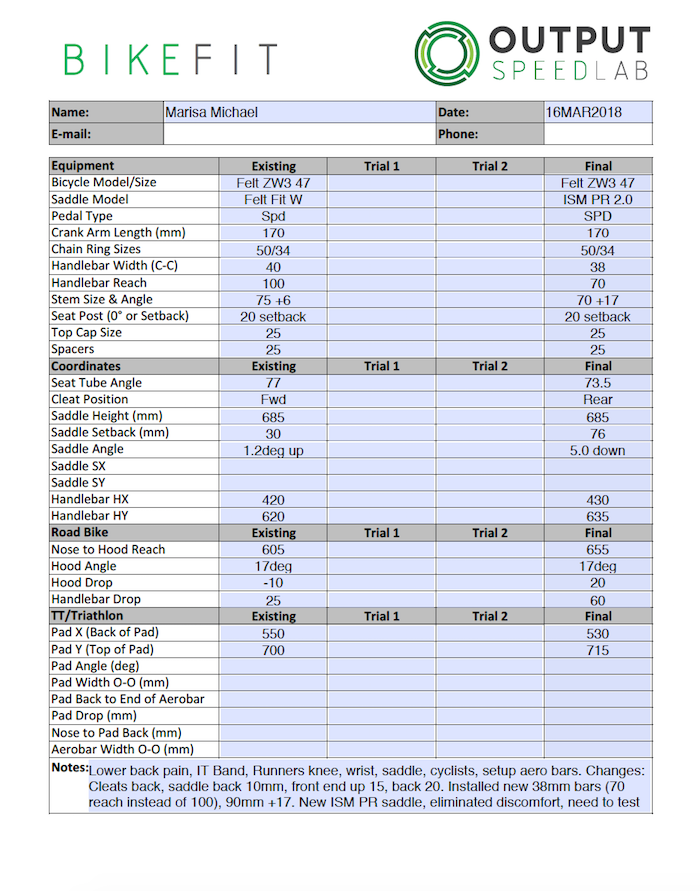 Here are my specs before and after the fitting.
Before: These are my bike specs translated onto the fitting machine.
After: Adjustments in the saddle height, fore/aft position, narrower handlebars, and hood adjustment. Can you see the subtle difference in my back position, hip hinge, and elbow/wrist angle?
I ended up changing:
Handlebars–needed narrower ones to alleviate wrist pain and help with wrist angle on hoods.
Hood position
Saddle–I got a brand new saddle since my other one was causing me pain after only 5 miles of riding!
Pedals and cleats—changed out the old SPD for some beautiful new LOOK pedals. Also new shoes and cleats. Feels so good! (Full confession: My shoes were 10+ years old. Yikes!)
So here is my bike now. It's been raining a TON (thanks a lot, Portland) so I only rode it 4 miles while it was drizzling. I can't wait to test it out on a long ride. But the preliminary ride felt much better on all contact points. I think it's gonna be a good training season!
~If you are training for an endurance event, don't leave your nutrition to chance. Schedule an appointment online to avoid the dreaded bonk or DNF. 
SaveSave
SaveSave
SaveSave
SaveSave
SaveSave
SaveSave
SaveSave
SaveSave